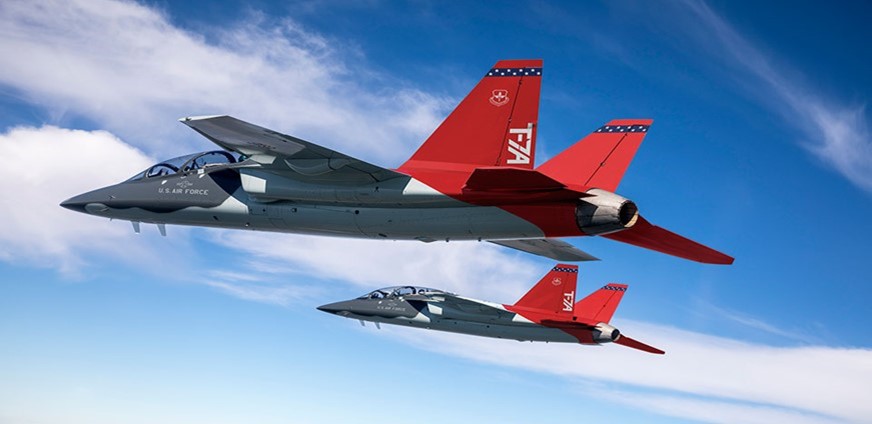 Welcome.
Welcome to the Department of the Air Force's website for T-7A recapitalization at Laughlin AFB, Texas!
This website is the Air Force's online center for the public to learn about and become involved in the Environmental Impact Statement (EIS) process for Laughlin AFB. The Air Force encourages the public and interested parties to review the information and documents provided on this website and participate in the EIS process.
Visit the Air Force's T-7A Recapitalization NEPA Homepage to learn about and participate in the NEPA processes for other military installations that may undergo T-7A recapitalization over the coming decade!
What's New?
The Draft EIS is complete and available for public comment until January 8, 2024. Please provide comments using the Provide Comments tab.
The Air Force has scheduled an in-person and a virtual public hearing for early December 2023. The in-person public hearing will be held in the Grand Ballroom of the Ramada by Wyndham Del Rio on December 5 at 5:00 p.m. and the virtual public hearing will be held online on December 11 at 5:15 p.m. To attend the in-person hearing, simply come to the Ramada on the evening of December 5. To attend the virtual hearing, please register ahead by clicking here. Then, log onto the virtual hearing on the evening of December 11. If you do not have internet access, you may call 408‑418-9388 on the evening of December 11 to attend. Telephone users should use meeting number 2492 634 5953 and passcode 782 542 43 to attend the virtual hearing. A translator will be present at both hearings to assist Spanish speakers to understand the information presented.
These hearings will provide you will the opportunity to learn more about this proposal and its environmental impacts and provide the Air Force with your comments and feedback at the hearings. More information on the hearings is available on the Get Involved tab.
Please visit the Get Involved, Documents, and Provide Comments tabs for more information.
This website is compliant with Section 508 of the Rehabilitation Act. This allows assistive technology to be used to obtain the available information from the website. Due to the nature of graphics, tables, and images occurring in the website, accessibility is limited to a descriptive title for each item.
Photo Credit: Boeing T‑7A Red Hawk Website, January 2022, https://www.boeing.com/defense/t-7a/#/gallery